与EPS聚苯乙烯泡沫塑料板相比,其强度,保温,抗水汽渗透等性能有较大提高。在浸水条件下仍能完整的保持其保温性能和抗压强度,特别适合应用于建筑物的隔热,保温,防潮处理。是当今建筑业物美价廉的施工材料之一。
(1)挤塑板无与伦比的隔热性能
挤塑板的导热系数小于等于0.028w/mk,远远低于其它的保温材料(工程上通常把导热系数小于0.25w/mk的材料作为保温(热)材料),因此具有高热阻,低线性膨胀率的特点。普遍使用于屋面保温隔热系统、冷库、墙体内外的保温隔热,效果无与伦比。
(2)万无一湿的吸水性
作为一种的保温隔热材料,吸水率为极其重要的技术指标,吸水率高会导致隔热性能变差,挤塑板具有完整的闭孔式结构,板的正反两面都没有缝隙,使漏水,冷凝和冰冻/解冻循环等情况产生湿气无法渗透,因此能有效的阻止水分子的进入,所以不能使板材发生老化,随着时间一久其保温层将丧失其作用,进一步造成保温结构层需翻修。XPS板的闭孔结构能有效阻止水分子的渗透(包含水蒸气),即使在施工时遭到机械性破坏,XPS板因紧密严紧的蜂窝结构也能有效的维持低吸水性的功能。因有效阻止水分子渗透加上无亲水性所以几乎不可能发生老化现象,几乎与建筑物同寿。
(3)保温性能
低导热系数是所有保温材料所要具备的条件,XPS板是以聚苯乙烯(PS)为原料制成,众所皆知,聚苯乙烯本身就是良好的保温材料,加上以挤出方式生产,紧密的闭孔蜂窝聚光镜更有效的阻止热传导作用。
(4)意想不到的抗压性能
XPS挤塑板是一种轻质高强度板材,在密度不超过40kg每立方情况下抗压强度可高达350KPa以上。在建筑物中使用可以获得良好的抗冲击性能。
XPS挤塑板的抗压性能即使浸泡在水中也几乎毫无改变,这一特点在其他保温材料中是没有的。
(5)良好的阻燃
根据用户的要求提供普通型和阻燃型产品,完全可以满足工厂厂房,体育场馆,会展中心等对保温产品阻燃性能的要求。
(6)高品质的环保型产品
XPS挤塑板的化学性质稳定,没有有害物质的挥发,更不会发生分解或霉变,有良好的耐腐蚀性能。
在XPS挤塑板的生产过程中,采用了环保型的原料,不产生有害气体,在生产工艺中亦体现了环保理念,产生的固体废料可回收处理使用,是可回收的环保型产品。
(7)施工便利成本底
由于质轻,所以搬运轻松,切割容易,无需电锯,固定简单,只需铁片、铁丝塑胶粘合剂式聚合物砂浆即可固定,故而可以使建筑施工的成本大大降低。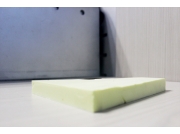 Compared with EPS polystyrene foam plastic plate, its strength, heat preservation, water vapor penetration and other properties have greatly improved. It can maintain its thermal insulation and compressive strength completely under water immersion conditions, and is especially suitable for insulation, insulation and moisture protection of buildings. It is one of the cheap construction materials in today's construction industry.
(1) Incomparable insulation performance of extruding panels
The thermal conductivity of the extruded plastic plate is less than or equal to 0.028 w/mk, which is much lower than other thermal insulation materials(engineering usually uses materials with a thermal conductivity of less than 0.25 w/mk as thermal insulation(insulation) materials), so it has high thermal resistance and Low linear expansion rate characteristics. It is commonly used in roof insulation systems, cold storage, insulation inside and outside the wall, and the effect is unparalleled.
(2) Water absorption without moisture
As a perfect thermal insulation material, the water absorption rate is an extremely important technical indicator. High water absorption rate will lead to poor thermal insulation performance. The extruder has a complete closed hole structure, and there is no gap between the front and back sides of the board., so that leakage, The condensation and freezing/thawing cycles, for example, create moisture that can not penetrate and therefore effectively prevent the entry of water molecules, so that the sheet can not be aged, and its insulation layer will lose its role over time, further causing the insulation structure layer to be renovated. The closed hole structure of the XPS plate can effectively prevent the infiltration of water molecules(including water vapor). Even if it is mechanically damaged during construction, the XPS plate can effectively maintain a low water absorption function due to a tight Honeycomb structure. Because it effectively prevents water molecules from infiltrating and is not hydrophilic, aging is almost impossible, and it is almost the same as buildings.
(3) Outstanding and lasting thermal insulation performance
The low thermal conductivity is a requirement for all thermal insulation materials. The XPS board is made from polystyrene(PS). It is known that polystyrene itself is an excellent thermal insulation material, plus extruding production. Closely closed Honeycomb condenser is more effective in preventing heat conduction.
(4) Unexpected pressure resistance
The XPS extruder is a lightweight, high-strength plate with a compressive strength of up to 350 KPa per cubic meter with a density of no more than 40 kg. Use in buildings can obtain good impact resistance.
The excellent compressive performance of the XPS extruding board is almost unchanged even if it is immersed in water. This feature is not found in other thermal insulation materials.
(5) Good flame retardant
Provide ordinary and flame retardant products according to the requirements of users, can fully meet the requirements of factory buildings, stadiums, exhibition centers, etc. for flame retardant properties of thermal insulation products.
(6) High-quality environmentally friendly products
The chemical properties of the XPS extruder are stable, there is no volatilisation of harmful substances, and no decomposition or mildew occurs. It has good corrosion resistance.
In the production process of the XPS extruder board, environmentally friendly raw materials are used, no harmful gases are produced, and the Environmental Protection concept is also reflected in the production process. The solid waste generated can be recycled and used. It is a recyclable environmentally friendly product.
(7) Construction facilitation costs
Due to its light weight, it is easy to handle, easy to cut, no electric saw, and simple to fix. It can be fixed only with iron sheets and wire plastic adhesive polymer mortar, which can greatly reduce the cost of construction.