XPS板具有致密的表层及闭孔结构内层。其导热系数大大低于同厚度的EPS,因此具有较EPS更好的保温隔热性能。
对热层厚度也不同的建筑物外墙,其使用厚度可小于其它类型的保温材料;由于内层的闭孔结构。因此它具有良好的抗湿性,在潮湿的环境中,仍可保持良好的保温隔热性能;适用于冷库等对保温有特殊要求的建筑,也可用于外墙饰面材料为面砖或石材的建筑;
质地轻、使用方便:XPS板的完全闭孔式发泡化学结构与其蜂窝状物理结构,使其具有轻质、高强度的特性,便于切割、运输,且不易破损、安装方便。由于挤塑聚苯乙烯与基层墙体的固定方式要采用机械固定件。在冬季可照常施工;
稳定性、防腐性好:长时间的使用中,不老化、不分解、不产生有害物质,其化学性能极其稳定,不会因吸水和腐蚀等导致降解,使其性能下降,在高温环境下仍能保持其优越的性能,根据有关资料介绍,XPS挤塑保温板即使使用30~40年,仍能保持优异的性能,且不会发生分解或霉变,没有有毒物质的挥发。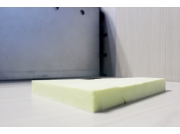 The XPS plate has a dense surface layer and a closed hole structure inner layer. Its thermal conductivity is much lower than that of EPS of the same thickness, so it has better thermal insulation performance than EPS.
For the same building exterior walls, the thickness of use may be less than other types of insulation materials; Due to the closed hole structure of the inner layer. Therefore, it has good moisture resistance and can maintain good thermal insulation performance in wet environment. It is suitable for buildings with special requirements for thermal insulation such as cold storage, and can also be used for buildings with external wall decoration materials such as brick or stone.
The texture is light and easy to use: The XPS plate's completely hermetically closed foaming chemical structure and its Honeycomb physical structure make it light and high-strength, easy to cut, transport, and not easy to break and install. Because extruded polystyrene and the basic wall of the fixed way to use mechanical fixation. Construction can be carried out as usual in winter;
Stability and good preservative properties: In long-term use, it does not age, decompose, or produce harmful substances. Its chemical properties are extremely stable, and it will not degrade due to water absorption and corrosion, and its performance will be reduced. In a high-temperature environment, it can still maintain its superior performance. According to relevant information, the XPS extruded insulation board can maintain excellent performance even if it is used for 30 to 40 years, and no decomposition or mildew occurs. There is no volatilisation of toxic substances.
热点推荐